Peninsula Park-View, located across from Peninsula State Park, is a popular location for reunions and groups, families and friends, hikers and bikers. The accommodations include 4 cottages, 2 upscale suites, 1 queen efficiency suite and 10 individually decorated rooms. There are 3 pet rooms: 1,9,10. Pets are not allowed in any of the other accommodations. Click either the pictures or the accommodation type for more information. check availability
Cottages are family friendly and perfect for friends and reunions. The four recently remodeled 2 and 3 bedroom cottages at Peninsula Park-View sleep 4+ people each. Three include full kitchens. These roomy and remodeled "housekeeping" Cottages were added when the neighbors decided to build across the road and the hotel reclaimed the property that was separated by the property's second owner, Herbie Hardt. No pets. Located near the heated outdoor pool, guests have use of grills, swings, firepits and free WiFi. Need a pet friendly cottage? We are now accepting reservations, by phone, for the pet friendly Robin's Nest Cottages in Fish Creek.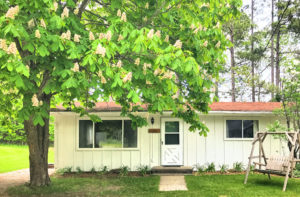 Lilac Cottage: 2bedrooms, living /dining area with fridge, microwave, sink
Chestnut Cottage: 2 bedrooms, full kitchen & living room
Evergreen Cottage: 2 bedrooms, full kitchen & living room
Blue Spruce Cottage: 3 bedrooms, full kitchen, dining room, living room
Robin's Nest Cottages in Fish Creek: a variety of pet friendly cottages with full kitchens
The romantic Anniversary Suite and Garden King Efficiency
were created when owners Ron & Carole moved a 1939 home destined for destruction up the hill from Ephraim.
It took 4 years to restore the large Anniversary Suite to make it exceptional by keeping the original ambiance. People enjoy the hand hewn beams and large stone fireplace while they relax in the private whirlpool. It has a kitchenette, dinette, sunroom, living room, and a private porch facing Peninsula State Park.
The Garden King suite was also moved from Ephraim and many people add nights to their stay because they enjoy the poolside suite with beautiful modern décor and almost more windows than walls. Recently someone building a boutique hotel wanted to copy the design.
Queen Efficiency & Queen Efficiency Suite
Room 9
Rooms 9 and 10

an efficiency with a kitchenette, a queen bed, and a roll in wheelchair shower, allows a pet
a suite which has an adjoining door inside, 2 queen beds, a single sofa sleeper, a kitchenette for up to 5 guests, allows a pet.
Sunset Meadow Anniversary Suite, Garden King Efficiency, Queen (pet) Efficiency click the name for more info or on check availability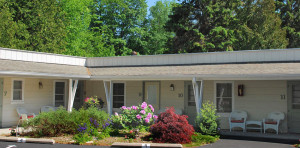 Rooms feature new carpet or laminate floors, ultra luxurious towels, elegant triple sheeting for exceptional cleanliness, ceiling fans and large windows for cross ventilation, A/C, microwave & fridge, FREE Wi-Fi. check room availability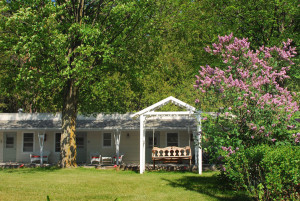 (pet) Rooms 1, 10
Rooms 3, 6, 7, 11
Room 2
Rooms 4, 5
Room 8
a queen bed and a twin sofa bed that allows a pet
one queen bed
a Queen bed and a twin sofa
two queen beds
a Queen Bed and a room with a twin & trundle bed