There are lots of parks and beaches to enjoy plus shops and galleries are open. Masks are appreciated! However in these uncertain times, many events have been cancelled. Check before you go!
Exploring Door County by bicycle, car or on foot starts at Peninsula Park-View! We are located across from Peninsula State Park's quiet Highland Road entrance There is a bicycle map to the Nicolet Beach at the bottom of this page.
This DIY free bicycle maintenance station is sponsored by Ron & Carole Vande Walle, located at Peninsula Park-View, and open to everyone!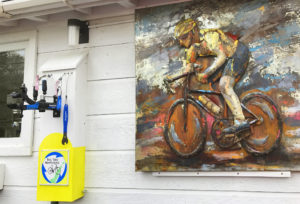 ---
---
---
Festivals & Events
Are we missing your favorite? let us know!
Brown Trout Tournament, April
Half Marathon & Nicolet Bay 5k, mid-May
Blossom Run, Egg Harbor mid-May
Scottie Rally, Baileys Harbor mid-May
Maifest & Run, Jacksonport end-May
Fleet Blessing, Baileys Harbor early June
Lighthouse Festival, early-June
Goat Parade, Sister Bay early-June
Steel Bridge Songfest, mid-June
Paddlefest, Sister Bay mid- June
Fyr Bal, Ephraim mid-June
Pen.Century Spring Classic bike ride, June
Renaissance Faire June, July
4th of July Festivals July 3-7
Sister Bay Brick Party ( LEGOS), July
Door County Plein Air, end-July
Festival of Fine Arts, Sister Bay mid-Aug
Blues on the Bay, Ellison Bay end-August
Marina Fest, Sister Bay early-Sept
Hey Hey 5K Run, Baileys Harbor end-Sept
Autumn Fest, Baileys Harbor end-Sept
Inside Outside Sale, Fish Creek mid-Sept
Pumpkin Patch, Egg Harbor early-Oct
Fall Fest, Sister Bay mid-October
Jack O'Lantern Days, Fish Creek end-Oct
Fall 50, Gills Rock to Sturgeon Bay end-Oct
Harbor Halloween, Baileys Harbor Oct 31
Capture the Spirit, Sister Bay end-Nov
Holly Days, Egg Harbor end-Nov
Christmas in the Village, Ephraim early Dec
Noble House tree lighting & caroling, early Dec
Harbor Holiday, Baileys Harbor early Dec
New Years Parade, Egg Harbor Jan 1
Winter Fest, Fish Creek early February
Services
2forU Design: Giclee printing, instant Kiosk printer, scanning, photo restoration, Web & Graphic Design
Dog & Pet Portraits: Capture your trip to Door County with a photograph of your furry family member.
GA Computer Services: Web Design, virus & spyware removal, remote troubleshooting, custom installations, purchasing, networking
Fish Creek BP gas, mini market, ATM & car wash
Main Street Market, Egg Harbor: food, wine, deli
Fish Creek Market, deli, wine, food
Piggly Wiggly, Sister Bay deli, wine, food
Edge of Park Rentals, Bikes & Mopeds, Fish Creek
Nicolet Beach Concessions & Rentals
Fish Creek Post Office
Fish Creek Library

---
---
Beaches
Guest adventure option: Check out a complimentary bicycle, ride to the beach where you can swim, rent a boat or hike, then ride back to swim in the heated pool, hang out in the Gathering Lodge, or cook your dinner on one of our many charcoal grills.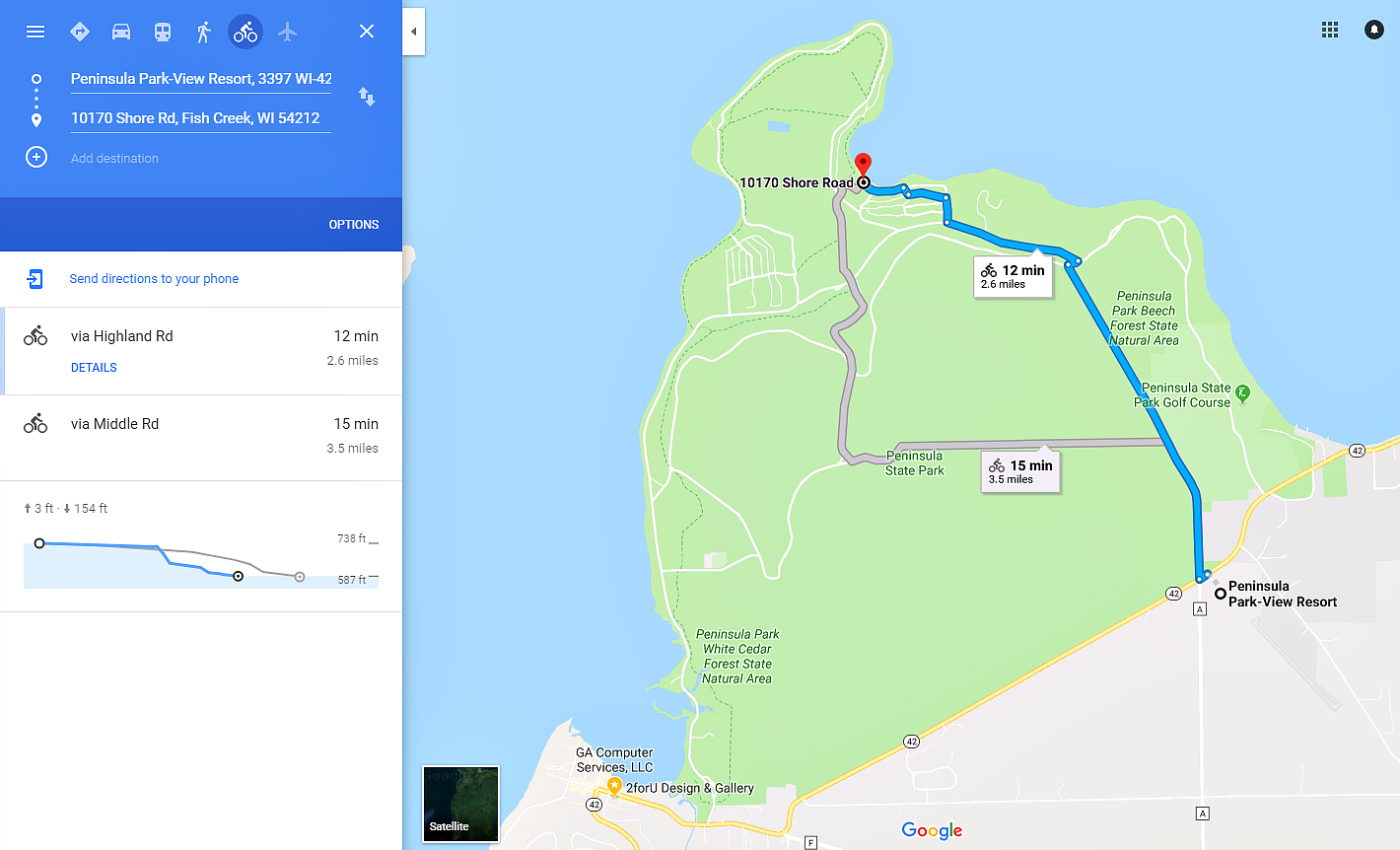 Nicolet Beach in Peninsula State Park is 2.6 miles (about 12 minutes by bike) Peninsula Park-View is the closest accommodation to Nicolet Beach (red pin). Click on the map to view in Google Maps.
Ephraim Beaches, Parks, Marinas the public beach is 1.2 miles NE on Hwy 42.
Fish Creek Beaches & Parks The main public beach is 2.8 miles SW on Hwy 42.
---
There are many more wonderful Door County expereinces than are listed on this page. If you would like one added let us know! We appreciate all feedback, please let us know if a link is not working.
"The true sign of intelligence is not knowledge but imagination." Albert Einstein
"I have no special talent. I am only passionately curious." Albert Einstein
Book your pet portrait today!
Mention this ad and receive a free 11×14 print from your session.