We try to help every guest have a wonderful stay with us. Policies are for the comfort, peace and safety of our guests, to keep our resort clean and equipment in good condition. Because guests have observed the policies, we have been able to keep our rates reasonable, provide many amenities and enjoy guests who return again and again.
Rates for each unit vary.
Rates in rooms and suites are for two people. Rates in 2 and 3 bedroom cottages are for 2 to 4 people. Rates in the 5 bedroom cottage are for eight people. The Anniversary Suite is an adult only suite for 2 people. Each additional person of any age is only $10 per night. If extra guests are not included in the online total when you secure the room, your invoice will be adjusted.
~ Guests who bring their own towels in the rooms and suites may receive travel green discount. Please request this special when reserving.
Reservation Policy
A reservation is tentatively confirmed when you receive a copy of the invoice when you reserve online. Please carefully check the invoice. Please contact us if you have questions or if there is an error.
The reservation is accepted when we record valid credit card information and, unless there was a booking or website error, is confirmed when the payment clears.
You will automatically receive a copy of the invoice when you reserve.
If policy was not followed or there is a website error, the reservation may be canceled.
If there is a website error in the room rate, the guest may pay the correct amount or cancel the reservation when notified.
Two or three night minimums apply during holiday, festival and busy weekends. Reservations not meeting the minimum will be adjusted or cancelled.
We may need to change the unit to a comparable or upgraded room to allow for a longer stay.
Only one special or package applies during a single stay.
Rates may increase, but not after the reservation has been confirmed.
A fee may be accessed for policy non compliance and the reservation may be canceled with no refund for violations that disturb other guests or cause damage and excessive cleaning.
Deposit/Payment
A deposit is paid when the booking is made. See room, suite or cottage tab for details
If there are fewer than 30 days before arrival, the reservation is paid in full.
We accept Visa, MC, check, cash or money order. There must be a valid credit card on file if you are paying by check, cash or money order.
We will accept one credit card per reservation. Payments by other people in the same group may be made in advance by check or on arrival in cash.
A $15 service fee will be charged for each additional credit card per reservation because it requires canceling and writing a new reservation to match credit card information.
There is an 8% Room Tax plus a 5.5% State Sales tax in Door County which will be added to your nightly rate.
CANCELLATION POLICY
Please remember that the season in Door County is very short and when we guarantee to rent to you, we have promised not to rent the unit to anyone else, even when they offer to pay more. You guarantee to be financially responsible for the days confirmed. You pay for the rental guarantee, not for the room. If a credit card is declined or invalid when booking, the reservation may be canceled.
When you must cancel a reservation of 2 or more days on short notice, a GIFT CREDIT for the amount not re-rented, minus the cancellation fee, may be requested and can apply toward A SINGLE STAY DURING THE MILD or QUIET SEASON for up to a year
If a room is canceled less than 30 days or a suite or cottage is canceled with less than 60 days, the person who reserved the room will be financially responsible for the period of time the unit is not re-rented for the same dates and at the same rate. A cancellation fee will apply even when re-rented.
The cancellation fee for the rooms is 10% of your reservation. A one night stay is not refundable.
A refund, minus the cancellation fee, will be made if WRITTEN NOTICE is received at least 30 days prior to the arrival date for rooms or 60 days prior to arrival date in suites or cottages.
Reservations for a no show will be held until 8:00 am the day after your scheduled arrival. When the reservation is for multiple nights you will be charged the balance of the reservation and only reimbursed for the dates re-rented minus the cancellation fee.
Specific Cottage Policies: click here to read
** New reservations will receive an updated policy with your confirmation. While we try to have this page updated a few things may have changed so refer to it for current policies.
PETS POLICY: Would you like to bring your furry family member? Peninsula State Park, across the road, is a wonderful for walking.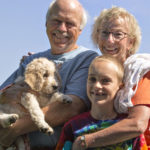 To ensure the enjoyment of the property by all: Pets are allowed only in rooms 1, 9, and 10 at Peninsula Park-View and in the Cardinal, Sparrow and Starling cottages at the Robins Nest Cottages, they are not allowed in other buildings. Each pet is $15 per night. READ the pet policy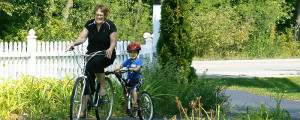 BICYCLE USE POLICY: Bicycles are free for guests only. They may be used in Peninsula State Park or wherever they can be ridden, except on mountain bike trails or rough terrain. They may not be transported by vehicle. Children under 18 must be accompanied by an adult. Helmets are not provided, but we suggest you bring yours or rent them in Fish Creek. If you bring your own bicycle and need overnight storage, please let us know. Bicycles are not allowed inside the rental units. Guests must read & sign our agreement, available in advance by request, before use because most accidents can be prevented.
LAWNS: Tables and chairs, fire pits and grills are available.
~ People are expected to clean them after their use. We will provide some cleaners when requested during open hours 8 to 5.
~ Please don't leave trash on tables in the yard or toss cigarette butts on the ground. We work hard to have an exceptionally clean lodging.
~ For everyone's health and safety, we do not use chemical sprays on the lawns.
~ Smoking is not allowed in buildings, on decks, porches or areas near buildings. Smoking is allowed on tables in the yard.
Book your pet portrait today!